FIERF Forging Competition
Each year, students will come together to compete in the Forging Foundation's Forging Competition. The Forging Competition is a great way for students to have a hands-on opportunity to learn more about forging while competing for prizes!
FIERF Forging Competition 2023
Congratulations to the winners of the 2023 Forging Competition!
Best Process: Colorado School of Mines - The team who implemented the best overall process throughout the execution of their project. This award was determined by FIA's Technical Committee from reviewing and ranking each team's technical report.
Closest to the Frequency: University of North Texas – The team that achieved the closest match to the team's assigned frequency. It was a close competition and there were multiple teams that achieved their assigned frequencies. The winner was then determined based on the length of time the forks sustained the frequency.
People's Choice Award: University of Cincinnati - Thank you to everyone who voted for your favorite tuning forks through the Forge Fair mobile app. This helped us determine which team you all thought should win this award based on the team's technical poster and the tuning forks that were on display.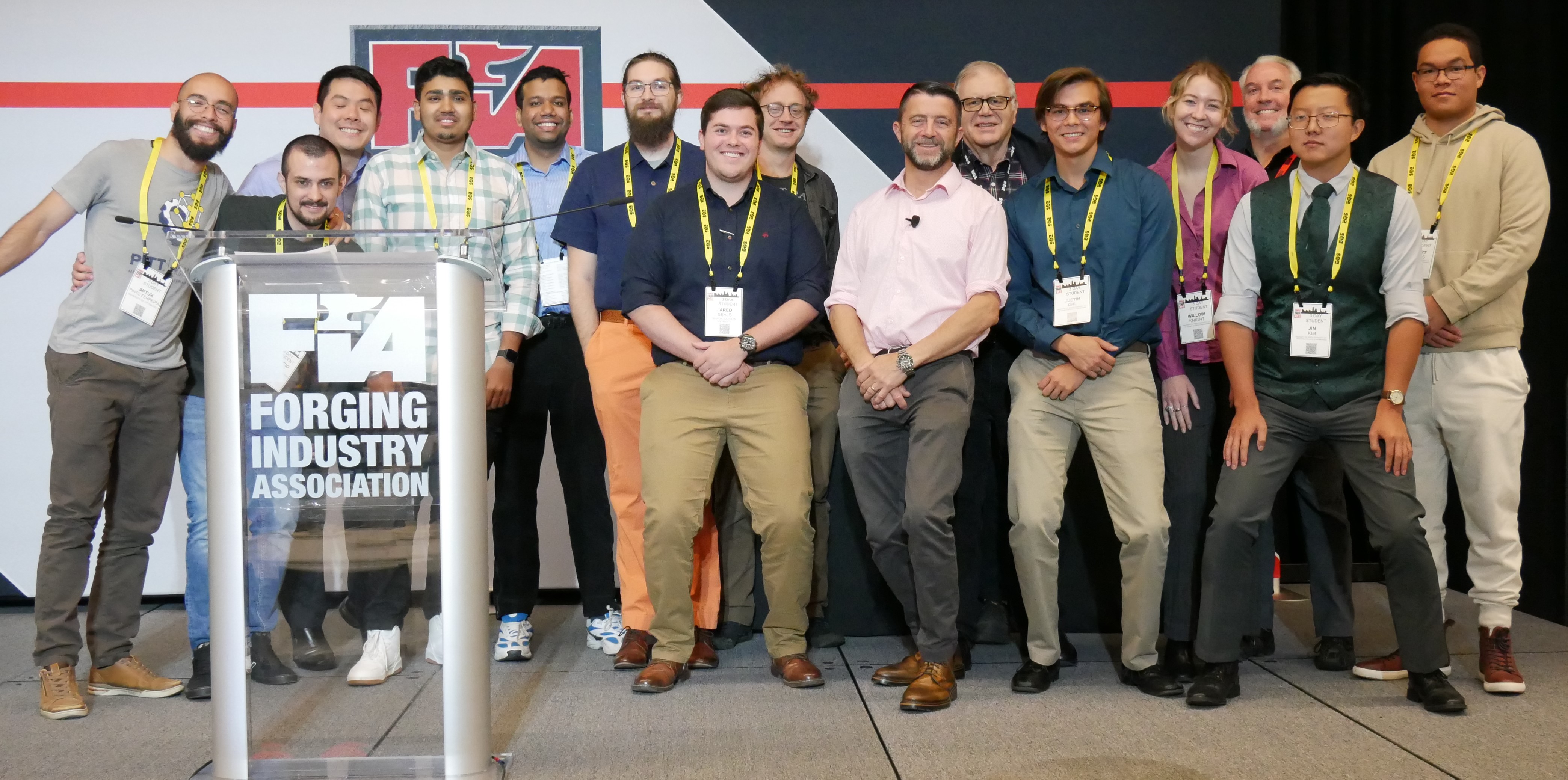 Pictured: Students that competed in the Forging Competition at the awards ceremony at Forge Fair with Keynote Speaker Ben Abbott.
Thank you to all who participated!
Cleveland State University – CSU Viking Tunes
Colorado School of Mines – Your Average Metal Band
Georgia Southern University – Eagle Forging
Mississippi State University - Rockin' Tuning Forks
North Carolina State University – NC State Forge
Purdue University – Purdue Forksmiths
University of Cincinnati – Team Alpha
University of North Texas – The Fearsome Fork Forgers
University of Pittsburgh – Metaleros
Jared Seal, Georgia Southern University
Jin Kim, University of North Texas
For more information on the FIERF Forging Competition, please contact Amanda Dureiko at 216-781-6260 or [email protected].