Forging Foundation News November 2021
Women in Forging Panel Session
The Women in Forging Group hosted its first event at Forge Fair in Detroit, MI on October 28, 2021. The panel session moderated by Ashleigh Walters, President, Onex, Inc., covered topics such as transitioning into the next generation; men becoming mentors and allies to women in the industry; finding work/life balance; labor and workforce development; and more. Panelists included female leaders from FIA Member companies.
If you didn't get a chance to see it, click the button below to watch the recording of the panel session.
Save the date for the next Women in Forging event. On March 30, 2022 (following the FIA Safety Conference) the group will meet for a luncheon in Dearborn, MI to connect and network with others in the industry.
Check out the latest Women in Forging Article in the November FIA Magazine issue.
If you are interested in joining the Women in Forging Group or attending events, contact Amanda Dureiko at [email protected] or 216-781-6260.
---
Call For Support
As FIERF's 60th Anniversary year comes to an end, we are asking you to consider making a gift of support.
The Forging Industry Educational and Research Foundation (FIERF) builds our future workforce by promoting our industry, awarding scholarships, identifying and sharing employment opportunities, and encouraging participation in forging research and projects.
We invite you to partner with FIERF to help develop our future workforce; for research projects that connect you with academia and provide practical knowledge for your company; and for unique networking opportunities.
Click on the button below to make a donation.
---
Now Accepting Research Grant Proposals
The Forging Foundation is now accepting research grant requests. Applications are due February 15, 2022.
Each year FIERF awards grants to advance the science of forging, partnering with colleges and universities providing students experiential learning opportunities. 2021 was a record year, awarding 12 projects funding at 10 different Magnet Schools.
The FIA Technical Committee facilitates, develops and disseminates technical knowledge relative to the forging process and forging supply chain for the benefit of FIA Members while also working closely with Magnet Schools. After some discussion, the committee feels that there is a need in the industry for projects pertaining to:
Electron Beam Welding for Forging Die Repair
Casting Technology
Primary & Secondary Melting
Process Simulation
Material Characterization
Heat Treatment
ICME/ Micro and Meso-Structural Framework
High Entropy Alloys (HEA)/ Complex Concentrated Alloys
Robotic Applications for the Forging Industry

Ergonomics: Simulations, Exoskeleton & Cobots
Industry 4.0
Digital Thread/Digital Twin
Carbon Reduction/ Green Technologies
Additive Manufacturing
Artificial Intelligence & Machine Learning
Sensors & Equipment Monitoring
Forging Magnesium Applications
Forging Support Technologies
Please Note: This list is not exclusive, and the committee invites proposals on all areas of forging research & technology.
Click here to see a list of previously funded projects.
If you are a forger or supplier to forgers and are interested in partnering with a school and collaborating on a research project, contact Amanda Dureiko at [email protected] or 216-781-6260.
---
Eaton Steel Bar Company Makes Gift in Honor of Founders Al & Ozzie Goodman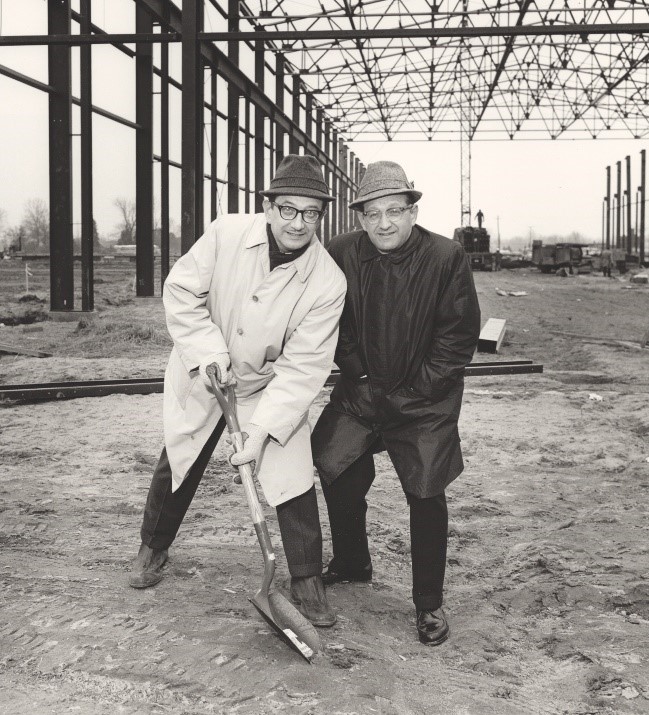 From left to right: Al Goodman & Ozzie Goodman. Photo credits, Eaton Steel Bar Company
In honor of their founders, Al & Ozzie Goodman, Eaton Steel Bar Company (ESBC) made a contribution to the Forging Foundation supporting the Women's Scholarship and general FIERF funds. ESBC has been a donor of the foundation for over 14 years and has pledged another three years of support!
Al & Ozzie Goodman founded Eaton Steel Bar company in 1953. Prior to starting ESBC, Al was a metallurgist at Ford Motor Company and Ozzie ran their sporting goods business. The Goodman brothers started out the business by being brokers, buying and selling steel products from one factory to another.
ESBC now operates as a supplier of specialty bar quality steel and their four primary facilities are located in southeast Michigan.
FIERF is grateful for Eaton Steel Bar Company's generous support throughout the years!
---
FIERF Board of Trustees Approve New Scholarship
The FIERF Board of Trustees approved a new 25K annual scholarship, "Metal Forging Engineering & Materials Science Scholarship". The Metal Forging Engineering & Materials Science Scholarship is available for high school seniors or current undergraduate and graduate students that are interested in engineering & metallurgy/material sciences degree that benefit the forging industry.
Annually ten (10) students who are awarded the scholarship will receive the opportunity to complete an internship worth an additional $2,500 funded by and held at an FIA Member company in the summer following the end of their awarded school year. When matching interns to member internship opportunities, a points systems based on historical member giving to FIERF will be used to establish order selection.
If your company has any internship opportunities available, contact Amanda Dureiko at [email protected] or 216-781-6260.
---
#WorkforceWednesday
FIERF recently started a social media campaign called #WorkforceWednesday where we highlight our valued FIA member company employees or FIERF Magnet School students.
If you have an individual at your company that you would like to see featured, click the button below.
---
Thank you to all of the new and continued supporters of the Forging Foundation. We couldn't continue to do what we do with out the generous support from you!
We invite you to partner with the Forging Foundation. A partnership with the Forging Foundation means you will help develop our future workforce!
Visit our website at org to learn more about workforce development and research activities
Email

[email protected]

with your Forging Foundation workforce development success stories (tours, interns, research)
If you are interested in learning more about the Forging Foundation and the workforce development programming that we do, contact Amanda Dureiko at [email protected] or 216-781-6260.