Forging Foundation News September 2022
First Ever Forging Competition

The Forging Foundation is excited to announce the launch of the Forging Competition and we wanted to share the information with you!
Teams of up to four students will have the chance to compete in an annual competition forging a specific item determined each year. Teams will compete to win prizes and will be judged based on their final forged product. This hands-on learning experience will allow students to explore the world of forging!
This year, students will forge (2) tuning forks to a specific frequency assigned by FIERF. The competition will be held during Forge Fair on May 25, 2023 in Cleveland, OH. Visit www.ForgeFair.com to find the team registration form, eligibility and entry requirements, and technical report guidelines. Teams can register online here or by returning the completed PDF registration form found on the webpage to [email protected]. Any student is able to participate! Current teams include Ohio State University, Colorado School of Mines and University of Alabama. Who will be this year's winner?!
---
FIERF Scholarship Students Looking for Internships
Each year the Forging Industry Educational and Research Foundation (FIERF) awards scholarships to qualified students in North America. FIERF is pleased to announce that 19 scholarships were awarded in the 2022-2023 school year.
The seven students who were awarded the Al Underys Engineering, Metallurgical & Material Sciences Memorial Scholarship recipients below are asked to complete an internship with an FIA member company. Below are the students that will need to complete an internship.
If your company will have internship opportunities for Summer 2023, please send them to Amanda at [email protected] by October 7th.
Abby Frisk

Ferris State University

Mechanical Engineering & Welding Engineering Technology

Emily Kate Freeman

Texas A&M University

Industrial Engineering

Jillian Parrino

Cornell University

Mechanical Engineering & Computer Science Engineering

Campbell Nystrom

University of Southern California

Electrical and Computer Engineering

Daniel Sims

Wayne State University

Welding and Metallurgical Engineering Technology

Mia Crider

Georgia Institute of Technology

Chemical Engineering

Jose Gonzalez

University of Texas at El Paso

Metallurgical Engineering
---
FIERF Golf Outings - Firestone Country Club & The Bog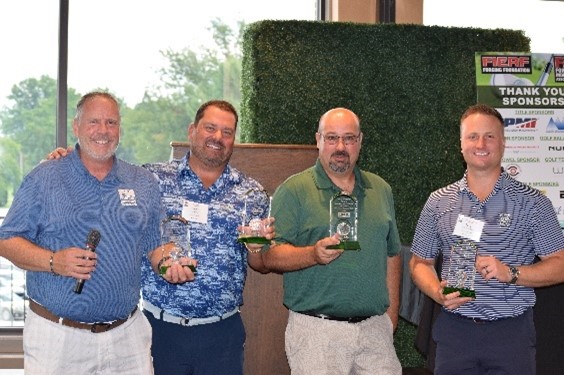 Thank you to everyone who participated and sponsored the Firestone Country Club Golf Outing and The Bog Golf Outing.
Through the outings, a total of $63,250 was raised to fund industry-relevant research to advance the science of forging and engage students through curriculum, experiential learning, and scholarships to pursue careers in the forging supply chain.
---
Next Gen at the Fall Meeting of Members
FIA is holding its first in-person Next Gen event alongside FIA's Fall Meeting of Members in Washington D.C.. The Next Gen group will be going on a brewery tour as a fun way to meet and network with others in the industry. The Fall Meeting of Members is October 24-26 in D.C. at the Hyatt Regency on Capitol Hill. Next Gen Members get a 50% discount on registration fees and the brewery tour is included. To learn more about the FIA Fall Meeting of Members, or to register for the event, visit www.forging.org.
About the FIA Next Gen Group:
The FIA Next Gen Group is comprised of individuals (approximate age 20-35) who are young business and manufacturing employees working in the forging industry. The Next Gen Group will provide an opportunity to collaborate with peers, share experiences, and discuss the challenges facing the forging industry. Our mission is to increase awareness and attractiveness of the industry as well as help to create the next wave of leadership. This is a great way to advance professional relationships and stay informed as a younger employee. If you are interested in meeting other likeminded professionals across the forging industry, this group is for you!
---
MFG Day is October 7, 2022


MFG Day is officially Friday, October 7, but any day can be MFG day!
Annually, there are over 3,000 events held in the USA that take place over the month of October. Events can be virtual or in-person and can include, but are not limited to; presentations, round tables, panel discussions, plant tours, etc. These events provide opportunities for students, parents, teachers, and local community leaders to see and learn more about modern manufacturing.
It is estimated that over the next 10 years, 4.6 million manufacturing jobs will be needed in our economy. Due to the skills gap, 2.1 million of those jobs are estimated to go unfilled. According to a new study by Deloitte and The Manufacturing Institute, the cost of those missing jobs could potentially total $1 trillion in 2030 alone.
CALLING ALL FORGERS AND SUPPLIER MEMBERS: It is more important than ever that your forging company participates in MFG Day. Create compelling experiences for the next generation and open their eyes to the modern manufacturing world! We want to bring these current students into the forging industry.
Click here to register your MFG event!
---
FIERF Scholarship Winner Highlight
One of FIERF's Scholarship winners, William Godkin, is part of North Carolina State University's Baja SAE team and their team is looking to connect with some of FIA's member companies.
The Pack Motorsports Baja SAE team is a student-run non-profit club at North Carolina State University (NCSU) that designs and builds an off-road car from scratch each year. The Baja vehicle is engineered to traverse various obstacles and jumps that it will face when it annually competes in collegiate competitions sponsored by the Society of Automotive Engineers (SAE). Building the car from scratch each year gives NCSU students experience in the design and manufacturing cycle through CAD, FEA, manual and CNC machining, welding, general fabrication, and more.

If your company is interested in working with the team, you can reach out to the team at [email protected] or check out their website www.ncstatebaja.com for more information. Working with the Pack Motorsports Baja SAE team will allow you to directly network with future engineers who may work for your companies!